Metropolitan Dental Practice Information
Office Location
1366 Clyde Avenue, Suite 1
Ottawa ON K2C 3Z4
Practice Info
Patient care and comfort are of utmost importance to us—that's why our facility has been specially designed so that we can provide our services in spacious, yet intimate surroundings. Our lounge, with its soft earth tones, sumptuous curves, and stylish lighting, will put you at ease the moment you step through our doors.
Feel free to check your e-mail or surf cyberspace using our free wireless Internet while you wait. While we work, relax and enjoy your favourite show on a television mounted in the ceiling above your chair. If you're in the mood for music, lie back and listen to our in-office selection of music on our own personal Spotify channel. This music was created especially for you to cover all of the different genres and decades to help make your experience a pleasant one. Who knows..you just may hear some of the hygienists or dentists humming along (hint hint…Dr Walters).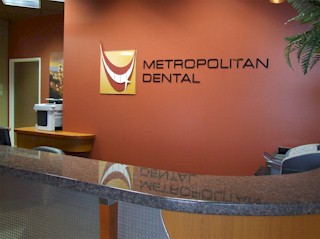 We are always accepting new patients into our practice and welcome your friends and family. Your referral is the greatest compliment you can give us and is greatly appreciated.
If you are a regular patient, you can use our online form to request an appointment for routine dental services or to set up a consultation for functional or cosmetic dentistry. Simply fill in as much information as possible, then click "Submit" at the bottom of the page, and we'll get back to you within 24 hours. Of course, you can always give us a call at 613-224-7930, and one of our receptionists will be happy to assist you.
Regular check-ups and cleanings are essential to maintaining your oral health, so we've invested in a new electronic reminder system to help you avoid missing your next appointment. You'll receive an automated reminder both two weeks and two days prior to your scheduled visit: by postcard, e-mail, or text message. Please be sure we have your updated contact information on file.
Also, please be reminded that we require at least two business days' notice to cancel or reschedule an appointment, or an administrative fee will be applied to your account. Of course, we appreciate as much notice as possible, so we can fill in any vacancies in our schedule. We respect your time and do our best to be punctual; we truly appreciate it when our patients do the same.
We're always happy to see new faces and are proud to admit that many new patients who come our way have been referred to us by our regulars.
As you may notice from our website, communicating clearly and openly with our clients is a priority at Metropolitan Dental. Educating you about your options for treatment adds value to our services: you should expect nothing less from any of your healthcare providers.
That's why spending a few minutes on the phone getting to know you is an integral part of our "new patient" process. While it may seem a little unconventional, we've found from experience that getting some preliminary information about you and explaining our own philosophies and policies is the foundation of a long and mutually respectful relationship.
Besides, developing a clientele that is dedicated to maintaining their oral health also minimizes emergencies and helps keep us on time. And that's better for everyone!
Let's face it. As Canadians, we don't often have to think about the costs of routine medical care. For those of us who are fortunate enough to have a dental plan at work, the same holds true for dentistry.
When a patient finds out that his or her benefits cover only part of a procedure—or none of it at all—the story often changes. Bring up the subject of dentistry during any casual conversation and someone is bound to complain about today's dental procedures being "way too expensive".
The truth is that oral health is an integral part of your overall health and well-being. The same bacteria that cause gum disease are linked to heart attacks, strokes, and other serious health problems. And good teeth and healthy gums are an important confidence booster in social situations.
At Metropolitan Dental, our goal is to ensure that our patients understand that budgeting for regular dental checkups is absolutely crucial—and can help offset the costs of larger procedures, which can really add up!
Patients who recognize that we have made a considerable investment in our facility, training, technology, and team development sometimes ask if we're more expensive than other dentists. The truthful answer is, we don't really know.
Fees for our services are based on the Ontario Dental Association's current fee guide. The guide is published to suggest consistent standards for average dental offices across Ontario, so individual practitioners have the flexibility to adjust their fees accordingly. We're about 10 percent "above average", which is consistent with other practices that offer similar services in metropolitan areas of the province.
What that means is that we may cost a little more, but the investment we make to give you the best dental care possible is worth it.
Our administrative team is experienced at handling insurance-related matters and will help prepare the necessary forms to maximize your benefits. All of our claims are filed electronically to ensure prompt handling.
We kindly ask for full payment at the end of each appointment and accept cash, cheques, Interac, MasterCard, and Visa.